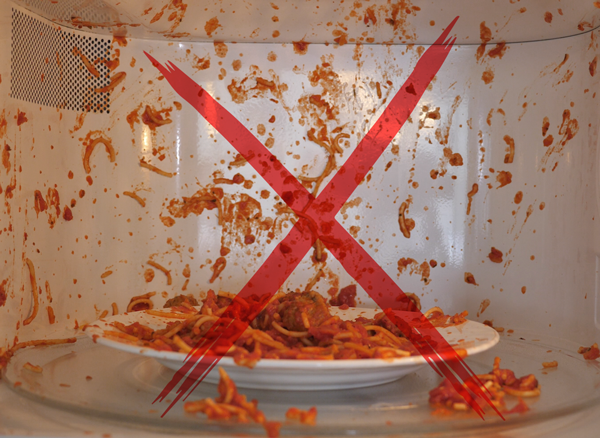 Never Clean This Ever Again
The 100% Microwave Safe Cover protects your food while heating to prevent pops, splatter, and messes.
Keep microwaves like-new and never scrub that hard to reach interior again!
HOW IT WORKS
1. Cover Food

Lower Hover Cover over your food to be heated

2. Microwave

Heat up food. Hover Cover blocks splatter and messes

3. Cling Storage

After heating, lift Hover Cover to magnetize to ceiling for out-of-the-way storage!
WATCH HOVER COVER IN ACTION
FEATURES AND QUALITY
Perfect Fit

Fits inside most standard sized microwaves. Cover measures
12" x 11" wide and 3.25" tall.

Cover It

Covers most plates, bowls, and dishes. Both inside the microwave and out!

Cool Touch

'Stay-cool' lifting brims around the edge allow you to easily lift up without burning fingers!

Microwavable Magnets

Patented microwave safe magnets store right inside—always ready for use!

Easy Clean, Dishwasher Safe

Easy to clean. Just rinse in the sink or place in the top rack of your dishwasher!

100% Microwave Safe

Made with BPA-free, food safe, heat safe material, so it's safe for the whole family!
This cover is well made very sturdy, great size it fits over my large dinner plates correctly, and the magnets are such a huge help keeping clutter off my cabinets! I plan on buying more for added gifts!

Keeps cover conveniently in microwave at all times, not adding clutter to counter when not needed. Works well covering microwave items & splatter.

This product is excellent. It provides ample space to place a large plate underneath without making contact with the food. The convenience of keeping it in the microwave by using the magnetic option is fabulous.

Very easy clean up. I received one as a gift and have gifted one to another friend. He absolutely loves it!

I love not having something out on the counter to cover food in the microwave. It's hidden. It's right where you need it. Easy to clean.
---
Hover Cover
Was $29.95
Now $24.95
Splatter guard food cover with microwave safe magnets cling to the ceiling for easy storage. Always ready. Never in the way.
12" x 11" x 3.25"
BPA-Free
Dishwasher Safe
---
Hover Cover 2-PACK
Was $49.95
Now $39.95
Buy 2 and save 20%!
Keep two for yourself or gift one!
12" x 11" x 3.25"
BPA-Free
Dishwasher Safe